The Office of the Coordinator for Reconstruction and Stabilization (S/CRS), NSPD 44, DOD Directive 3000.05 — Christopher D. Mallard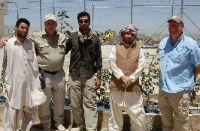 INTRODUCTION:
During the 1990s, the United States was involved in multiple post-war stability operations in locations ranging from Bosnia to Somalia to Haiti. Despite this increase in the prevalence of nation building missions, it was during this period that many policy makers considered such activities overly expensive, outside U.S. interests, and likely futile. Rather than addressing the underlying conditions that lead to state fragility, or designing a strategy to meet the emerging trend of low-intensity conflicts, the United States instead approached each crisis on a case-by-case, ad hoc basis. In most instances the military headed these efforts with minimal involvement from civilian departments and agencies. However, by the end of the decade, the defense and foreign policy communities began to perceive that civilians were better suited to carry out nation building tasks. Designs for a U.S. government (USG) structure to support this civilian-centric approach followed shortly thereafter.
STRATEGY:
In 1997, the Clinton administration issued Presidential Decision Directive (PDD) 56, which called upon all U.S. government departments and agencies to improve the planning and management of complex contingency operations (i.e. nation building). While PDD 56 made strides in resolving the "unity of effort" issue, it fell short in many areas. By the time the Bush administration assumed office in 2001, it had been effectively discarded. However, as post-war Iraq fell into chaos, Senate Report 108-247 reiterated the need to avoid post-war operations that, "…cobbled together plans, people and resources in an ad hoc fashion, usually with the Defense Department in the lead." To address growing calls for improved post-war reconstruction and stabilization (R&S) capabilities, President George W. Bush in late 2005 signed National Security Presidential Directive (NSPD) 44. This directive provided the statutory authority for the Office for the Coordinator for Reconstruction and Stabilization (S/CRS) and gave the Secretary of State the responsibility to "coordinate and lead integrated United States Government efforts, involving all U.S. Departments and Agencies with relevant capabilities, to prepare, plan for, and conduct stabilization and reconstruction activities." The directive also established a Policy Coordination Committee (PCC) on Reconstruction and Stabilization Operations within the National Security Council (NSC).
INTEGRATED ELEMENTS OF NATIONAL POWER:
Some Department of State (DOS) staff have indicated that senior officials did not communicate strong initial support for S/CRS. There was also resistance from several DOS regional bureaus about applying the NSPD44 framework devised by the NSC. In support of NSPD 44, the Department of Defense (DOD) in 2005 issued Directive 3000.05, Military Support for Stability, Security, Transition, and Reconstruction (SSTR) Operations. The directive elevated "…postwar stability and reconstruction operations as a 'core U.S. mission.'" This statement called for stability operations to be "addressed and integrated across all DOD activities, including doctrine, training, education, exercises, and planning." Also, in March 2007, the NSC approved the The Interagency Management System (IMS) for Reconstruction and Stabilization to integrate strategic level planning and implementation within the USG. Recent U.S. government efforts to create more interagency rotation and joint education opportunities have been a positive step towards institutionalizing post-war capabilities as well. However, the slowness in setting up a Civilian Reserve Corp (CRC)––a cadre of citizen diplomats with technical skills that would deploy quickly to hostile environments to support reconstruction––illustrates that progress has remained incomplete.
EVALUATION:
The NSC framework clearly intends much of the policy planning and coordinating of R&S to be driven through S/CRS initiative and authority. While the organizational chart seems fairly clear regarding who will take the lead on interagency coordination, it remains to be seen how much input S/CRS receives from the regional bureaus at State. It is clear that some bureaus at DOS believe S/CRS is assuming their traditional roles and responsibilities. For example, the U.S. Agency for International Development had traditionally taken the operational lead when it came to reconstruction operations and confusion existed within the agency when S/CRS took over these responsibilities. It is also uncertain whether policy and operational planning between DOD and S/CRS will be completely integrated. A Pentagon memo suggests that there are elements of Directive 3000.05 which remain unclear, especially in promoting cohesiveness between the S/CRS's Active Response Corps and the military. In addition, some experts believe that S/CRS is at too low a bureaucratic level to be effective and/or that the S/CRS coordinator lacks the authority needed to create a true interagency post-conflict capability. Another possible weakness in S/CRS is the persistent and traditional culture at State that has resisted taking a more expeditionary posture.
RESULTS:
The most positive aspect of NSPD 44 is the shift in resources to pre-planning and coordination at an unprecedented level. S/CRS and the Response and Reserve Corps have yet to be truly tested. However, the costs of not having an interagency post-war capability are clear. A critical lesson from the low-intensity conflicts during the 1990s and the wars in Iraq and Afghanistan is that R&S responses to crises have mostly been ad hoc. The mission usually goes to the agency or department that is most able to respond at the time––namely the Pentagon. This approach has brought heavy costs. In Iraq, for example, lack of phase IV (post-war) planning allowed the growth of an insurgency and interminable violence.
CONCLUSION:
Most indicators suggest the risk of state failure has increased in the period following the end of the Cold War. Effective U.S. mitigation of state failure will require improvement in interagency mechanisms and cooperation across the government. This means replacing the current ad hoc system with a permanent mechanism for effective joint civil-military operations. A whole-of-government response to future crises will be contingent upon identifying gaps and building capacities to meet a range of post-conflict scenarios. S/CRS does appear to have shifted the USG focus. It remains to be seen if the office will develop the clout it needs to effectively coordinate R&S activities.
HIV/AIDS Mitigation Efforts in Africa and U.S. National Security Policy: An Analysis of the President's Emergency Plan for AIDS Relief (PEPFAR) — Devin J. Lynch