Establishing U.S. Africa Command — Kimberly Nastasi Klein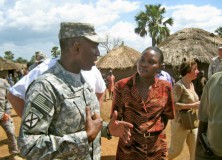 INTRODUCTION:
While lacking a dedicated combatant command, Africa had long been relegated to a tangential interest by U.S. military planners. As a result, although military engagement in Africa escalated after the end of the Cold War, it was often sporadic and lacked an overarching strategy. The result was a number of strategic failures on the continent. By the end of the 1990s, there was broad consensus that U.S. military activities in Africa had and might continue to fall outside the boundaries of traditional security missions, thus necessitating close interagency coordination. However, military strategists, policy makers and academics were not in agreement that a dedicated African command was part of the solution. Following nearly ten years of debate, on February 6, 2007, President George W. Bush and Secretary of Defense Robert Gates announced the creation of U.S. Africa Command (AFRICOM). AFRICOM was established as a sub-unified command under U.S. European Command (EUCOM) on October 1, 2007 and reached full operational capacity (FOC) as a unified command one year later. U.S. officials envision an AFRICOM capable of facilitating effective interagency engagement and a coherent military approach across Africa.
STRATEGY:
Historically, U.S. strategy in Africa has been inconsistent and military activities have been ad hoc. As Africa has increased in strategic importance, civilian and military DOD officials have sought a more coherent strategy on the continent through a new combatant command poised to address unique security challenges. In December 2006, Secretary Rumsfeld recommended that President Bush establish AFRICOM. The President announced the command's formation in February 2007. AFRICOM aims to unite ongoing DOD activities, previously administered by separate combatant commands, and facilitate military coordination with Africa missions conducted by other U.S. government agencies and departments.
INTEGRATED ELEMENTS OF NATIONAL POWER:
While experts generally agree that Africa's challenges require a calibrated approach utilizing all elements of national power, past interagency engagements in Africa have often failed to promote interagency coordination. Details of AFRICOM's interagency component are still forthcoming, but academic and military observers cite the need for an organization with a large interagency component while simultaneously expressing hesitancy about DOD's expanding role in non-traditional activities (i.e. infrastructure development and humanitarianism).
EVALUATION:
A number of factors are responsible for past failures in African engagements by Washington and DOD specifically that, if left unaddressed, may inhibit the success of AFRICOM. The most prominent concerns are: poor relationships with African stakeholders who have expressed unease about the militarization of U.S.-African relations; ineffective interagency coordination caused by divergent organizational cultures, ineffective coordination mechanisms, and civilian capacity shortfalls; resourcing deficiencies for DOD AFRICOM personnel; insufficient area expertise among U.S. Africa military planners and analysts; and DOD expansion into non-traditional activities that is at times compromised by an enduring emphasis on kinetic military operations.
RESULTS:
Past ineffective military and civilian engagement in Africa has led to less than successful counter-terrorism initiatives and a counterproductive emphasis on military activities above development, which many analysts argue have threatened long-term security in Africa. AFRICOM may yield benefits, although these remain speculative and likely dependent on the ability of the command to serve as a true interagency coordination mechanism.
CONCLUSION:
This case study highlights weaknesses of past U.S. military engagement in Africa, offers insight into the ability of AFRICOM to meet Africa's complex challenges, and warns against pitfalls that may jeopardize achieving the command's mission. The evidence indicates that while AFRICOM rightly reflects the new strategic prominence of Africa in U.S. interests, its success depends on adequate funding and staffing to include a robust interagency component. To achieve its objectives in Africa, the United States must integrate of all elements of power. In the past, the United States government has favored the use of military might to the exclusion of diplomacy and development in Africa. While AFRICOM holds the promise of reversing this trend and enabling truly joint civil-military operations, it is also in danger of following the models of unsuccessful past U.S. counter-terrorism efforts that have relied excessively on kinetic operations.